home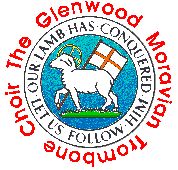 last update 9/15/15
Moravian Trombone Choir Music: Frequently-Asked Questions
This page was originally published as part of a website for the Glenwood Moravian Trombone Choir, a group I directed in Madison WI, from 1983-2006. (I still play occasionally in the GMTC, which has been directed since 2006 by Steve Ash.) I have moved this FAQ page here. Your comments and additional questions are welcome: just drop me a note at mike@allsenmusic.com.
---
What is the traditional role of the Trombone Choir in Moravian worship?
Beginning the early 18th century, Moravian settlements in America used the trombone choir (German: Posaunenchor) as distinctive part of worship, though it is a practice that had its roots in centuries of Church tradition in Germany. It is still a widely-popular tradition in Protestant churches in Germany, though these days Posaunenchor generally indicates a church brass band, rather than an all-trombone group: I recently heard a performance by a 25-member German Posaunenchor that only had one Posaune in the group! In 18th-century Moravian settlements, the trombone choir, playing from the church tower or from in front of the entrance, served to call the congregation to worship, and served as the congregation's "portable" ensemble for accompanying outdoor services: burial services and the Easter sunrise service traditionally held in the graveyard adjacent to the church. The Posaunenchor would also announce deaths in the community (see below) and generally serve as the settlement's "public address" system. There is a well-known story of an isolated settlement on the Ohio frontier that was about to be attacked by a band of Indians. The Posaunenchor, as the loudest sound available, played a chorale to sound the alarm; the Indians, hearing the "voice of the white man's God" were so shocked that they retreated without harming anyone. This story is probably apocryphal...but as a trombonist, I'll have to admit that I like it.

Though trombone-only groups are relatively rare these days, nearly every congregation has an instrumental ensemble of some kind, even if it is a mixed band that meets once a year to play for the Easter sunrise service. The backbone of traditional Moravian instrumental music is a huge body of four-part chorales: many of them shared with other, younger Protestant denominations (especially the Lutherans and Methodists), but a large number of the traditional chorales are uniquely Moravian in origin and usage. In addition to the burial service and several of the Advent and Lenten hymns, there are several distintive tunes:
One beloved Moravian tradition is the antiphonal Hosanna by Christian Gregor (1723-1801). This tune, which is used during the Advent season and on Palm Sunday, is traditionally sung in antiphonal call-and-response between sides of a congregation or between men and women. The Hosanna is available in the "Green Book" though in a different key (A-flat Major) than in the hymnal (A Major)--church bands beware! I recall a memorable--and embarrrassing--Advent concert when the organ and trombone choir were set to accompany the Hosanna antiphonally. Our organist forgot that we agreed to play it in A-flat, rather than A...with results that Charles Ives would have loved. There is also a similar 19th-century setting of the Hosanna by Edward Leinbach (1823-1901) that is not as frequently used.

The hymn Sing Hallelujah, Praise the Lord (sung to the tune 159D "Bechler") is affectionately referred to as the "Moravian National Anthem." (A longstanding traditional joke in our group is to whisper "Play ball!" after the final "Amen."). This one positively cries out for brass instruments: a nice forthright and joyous shoutin' hymn with the soprano part in the very high range. The traditional performance of this two-verse hymn among most congregations involves a big ritard in the last phrase with a fermata on the highest note and a very slow tempo on the last six pitches: i.e., "For us, for us, the Lamb was slaaaaaaaaaaaaaain, [big breath] praise ye the Lord, Amen." A footnote: the otherwise wonderful recording Lost Music of Early America, by Martin Perlman and the Boston Baroque, concludes a set of Lovefeast hymns with a performance of Sing Hallelujah that just barrels through that second verse: pretty jarring to anyone raised in this particular tradition!

One further unique hymn is Morning Star, O Cheering Sight (310B "Hagen"). This 19th-century gem is sung at the traditional Moravian candlelight service during Advent, as beeswax candles are lit by the whole congregation. This is also an antiphonal hymn -- in this case between a single child's voice or small group of children and the congregation. The musical form of this one, and the necessity of balancing with a child's voice probably make accompaniment by a trombone choir inappropriate.
return to top
---
What is the modern tradition in North American Moravian worship?
Modern practice varies widely from congregation to congregation. There are certainly groups that play more or less exclusively prelude chorales, funeral services, and the Easter service--the authentic core repertoire. In most groups that meet on a more than occasional basis, however, the repertoire has expanded to encompass brass ensemble music beyond hymns. The group that has had the broadest influence in creating a modern repertoire and performance tradition is the Moravian Trombone Choir of Downey (California). This group was founded in 1965 and was led for many years by Jeffrey Reynolds, longtime bass trombonist of the Los Angeles Philharmonic. From the 1970s onwards, this group attracted many of the best players in the LA area, and under Reynolds's leadership, the choir collected a large repertoire of music composed and arranged specifically for the group, for example the Solemn Intrada for SSAATTBB Posaunenchor by composer Malcolm Forsyth. Reynolds himself is a skilled arranger, and published several of his arrangements in the the late 1970s (see below). He also oversaw two influential recordings of Moravian trombone choir music in 1976 and 1981 (see below) that brought this music to a much broader audience. In my case, I knew these recordings long before I knew anything about the Moravian Church!

Our tradition at Glenwood is probably fairly typical for an active trombone choir. We usually play at a Sunday service about once a month, and when we're involved in a church service, we typically give the organist a break, and play pieces for the Prelude, Offertory and Postlude, and also an additional piece that substitures for the choir anthem. We try to put together things that are appropriate to the season and service, but one of the nice things about playing instruments rather than singing is that don't have to worry about a text, but merely the character of the music. (I'll have to admit that we once used an arrangement of Frank Zappa's Sofa No.2 during a service--albeit with a different title and composer listed in the bulletin--and I got all sorts of nice comments afterwards about that pretty Offertory piece!) We also play hymn accompaniments, usually combining with the organist and working out some kind of alternation on verses. I usually let our organist introduce the hymn, since the congregation is most used to that, but then we'll trade verses, combining on the last verse. This is a nice way to put a little variety in the accompaniment, and the congregation always enjoys it.
---
What is the authentic instrumentation and how can I locate these instruments?
The "authentic" Moravian Posaunenchor is a full trombone "consort" comprised of Soprano, Alto, Tenor, and Bass trombones.

Sopranos, pitched in B-flat, are essentially identical to slide trumpets. Any tuning problems associated with the normal tenor/bass trombone can be multiplied several times here, and finding a "good" soprano is tough. Bach and Conn manufactured slide trumpets decades ago--if you can latch on to one of these old instruments, it will probably be serviceable. The German maker Mirafone still manufactures a "high end" soprano as well. The American makers LA Horn and Jupiter also manufacture slide trumpets which are fairly cheap (see, for example the Brasswind), but you pretty much get what you pay for: these are instruments cobbled together with components from various drum corps and marching band horns. They can certainly be made to work, though, if you have a trumpet player with a good ear and a lot of patience. There is also a recently-issued soprano by Weril, a Brazilian maker (distributed by DEG), but I can't really comment on this horn as yet.

Altos are, of course, much more common, and there are several modern makers. You can also buy altos on the cheap from Jupiter--see comments above. Most altos are pitched in E-flat, though it's also fairly common to find instruments in F. My preference is for an E-flat Alto, which seems to blend a bit better with the B-flat instruments that make up the rest of the group, and which seems to have fewer intonation problems in general than the F Altos.

Tenors should be no problem at all: we're talking about your normal garden-variety B-flat trombone here.

In the early Moravian settlements, the bass voice was taken by a "true" bass pitched in F or E-flat--the sort of instrument that--like bass sackbuts--needed a hinged stick to reach the lower positions. These are virtually unknown today (though a few of the older Moravian congregations still own examples) and a modern bass trombone is perfectly appropriate. Where a large-bore bass is unavailable, try at the very least to have the larger tenors on the bass line. If you're lucky enough to have access to a contrabass trombone and someone who can play it, it can effectively double the bass voice 8ba. One of my fondest musical memories is playing in a 40-piece Posaunenchor that included two contras. The same effect can be approximated if you have a decent bass trombonist who can take the bass line down, but make sure he/she balances with the rest of the ensemble.
---
What instrumentation can I get away with?
In most Moravian congregations, the church band--often an Easter morning-only ensemble--includes anybody that can hold an instrument, brass or woodwind...even saxophones. The music can be certainly be played by a modern brass quartet/quintet: trumpet(s), horn, trombone, and tuba. With apologies to all horn players though, the sound of a conical bore brass is just different enough that the blend will be skewed. Same goes for tuba and euphonium/baritone. If you want an ideal Posaunenchor sound, you should stick with exclusively cylindical-bore brass instruments (trombones and trumpets) At Glenwood, we usually use trumpets (soprano valve trombones...) on the lead, and the rest of the ensemble is comprised of alto, tenor, and bass trombones. Trumpets or soprano trombones will work perfectly well on the alto line as well.
---
What music is commercially available?
The "standard" collection of Moravian chorales used by most church bands is the Southern Province band book, known universally to Moravians as "the Green Book" -- a set of partbooks for most of the hymns in our old 1969 hymnal. These are small, lyre-sized books that contain about 150 pieces: mostly hymns, but other useful stuff as well (see below). (There is also a similar, and smaller Northern Province band book, but it is not as widely used.) With the publication of The Moravian Book of Worship in 1995, the Moravian Music Foundation publisg a new set of Band books—"the Blue Book"—that includes many hymns not in the Green Book, or which were new to the MBW. The Green and Blue Books are available for a modest cost from the Moravian Bookstore in Winston-Salem (phone 910-723-6262). They are set up for just about any sort of ensemble. Brass ensembles will usually want buy a Soprano in B-flat, Alto in F (or B-flat), Tenor in Bass clef, and Bass in Bass clef.


Jeffrey Reynolds published several useful arrangements of Moravian brass music through Frederick Music in the late 1970s:
- Gregor, Hosanna (antiphonal, SATB+SATB)
- Leinbach, Hosanna (antiphonal, SATB+SATB)
- To Us a Child is Born (antiphonal, SATB+SATB)
- Huss's Communion Hymn (SATBB arrangement of the oldest Moravian hymn)
- Moravian Chorale Cycle (SATB suite of several standard Moravian hymns -- note that your alto and tenor players need to have some high chops to negotiate this one!) At present, only the Moravian Chorale Cycle is available through Robert King Music (the standard outlet for brass music).

If you're playing with a brass quintet, or an SSATB trombone choir, there is of course a vast amount of appropriate music available. I won't try here to make suggestions.
---
How is the Green Book organized?
There are several sequences of tunes included in the Green Book:
1) The first two thirds of the book (pp. 7-44) is a sequence of over 70 chorales organized by "Gregor numbers" (see below)--if a tune has a Gregor number, this is where it will appear, from 3C "Almsgiving" to 602A "Requiem" though not all Gregor hymns that appear in the Moravian Book of Worship appear in the Green Book. Most of the distinctly "Moravian" hymns in the Green Book appear in this sequence.
2) The next sequence (pp.45-57) is organized alphabetically by tune name, and includes tunes that were not in the Gregor Choralebuch--mostly standard Protestant hymn tunes that can be found in many hymnals.
3) On pp. 57-65, there is a collection of standard hymns/carols for Advent and Chrismas, organized alphabetically by their text, "Angels We Have Heard on High," etc.
4) On pp. 65-67, there are five standard patriotic tunes, including "The Old North State," state song of North Carolina!
5) There are six alternate settings for Gregor tunes included on pp.67-69--151A 151G, 167A, 195A, and 230A--including the J. S. Bach settings of "St. Mark" (151G) and "Sleepers Wake" (230A).
6) The final sequence is brief miscellany: arrangements of Haydn's "The Spacious Firmament on High" (from "The Creation"), Beethoven's "The Heavens are Telling," and the funeral chorale "O Come and Mourn."
---
What do those numbers in the Green Book mean?
While most newly-composed Christian hymn tunes are given tune names by their composers, many Moravian hymns also circulate with numbers. These relate to the ordering of tunes in Christian Gregor's Choralebuch (1784, with many later editions). The Choralebuch, which was the standard service book for Moravian communities, was organized metrically, with each number relating to a specific poetic form. Thus, for example, any hymn with four 13-syllable (7+6) lines could be sung to any tune designated "151." Where there was more than one tune for a given meter, the Choralebuch simply added letters. For example, there are about twenty "151" tunes that have been used in Moravian tradition, and several of these are included in the Green Book, from 151A "Passion Chorale" through 151T "Webb," and also a couple of post-Gregor tunes, 151 "Eastham" and 151 "Leinbach." Experienced Moravian band members often know these tunes almost exclusively by their "Gregor numbers." As odd as this arrangement sounds, it can be handy for using the Green Book in services. If your group is called upon to accompany a hymn, it often offers you several options.
---
Why are some Moravian tunes associated with certain social groups ("Single Women," etc.)?
This relates to the Posaunenchor's role in traditional Moravian funeral practice. When there was a death in a Moravian community, the Posaunenchor would first play the tune 151A "Passion Chorale" (i.e., O Sacred Head Now Wounded), which would announce that a death had occurred. The next tune would tell all who were listening what segment of the community the dead person had come from:
- 39A "Confession" = little boys
- 82D "Hayn" = little girls
- 23A "Upsala" = older boys
- 14A "Esslingen" = older girls
- 185A "Covenant" = single men
- 37A "Gregor" = single women
- 83D "Confidence" = married men
- 79A "Innsbruck" = married women
- 132A "Decius" = widowers
- 149A "Nassau" = widows
---
Where can I find recordings of Moravian trombone choir music?
There are two particularly good commercially available recordings.


The above-mentioned Lost Music of Early America: Music of the Moravians by the Boston Baroque (Telarc CD-80482, issued 1998) includes a couple of trombone choir pieces, played by members of the Boston Shawm and Sackbut Ensemble. Very nice performances, done on period instruments. It doesn't say on the disk, but it sounds as if they are playing on small-bore SATB trombones (typical of late 18th- and early 19th-century Moravian congregations) rather than sackbuts. The two trombone choir chorales are a kind of appendix to the main series of performances, which comprises a series of three lovefeasts (see below). As a bonus, Lost Music includes a second disc, a 20-minute lecture by the Boston Baroque's director, Martin Pearlman, which is a fine introduction to Moravian musical traditions.
Probably the most important recordings of Moravian trombone choir music are a pair of LPs supervised by Jeffrey Reynolds over 30 years ago: Music of the Moravian Trombone Choir (Crystal Records, Stereo S222, issued 1976), and Music for Two Seasons (Crystal Records, Stereo S225, issued 1981). I have already discussed Reynolds's contribution to the tradition above -- these LPs document not only traditional Moravian trombone style but also the works composed and arranged by Reynolds and others for the Moravian Trombone Choir of Downey. Music of the Moravian Trombone Choir is played by a small group of LA Philharmonic players and a couple of LA freelancers. This recording focuses primarily on the traditional chorales, but also includes a set of three 18th-century sonatas for SATB Posaunenchor by Cruse. Music for Two Seasons is played by an ensemble of twelve players from the Downey Trombone Choir. The two seasons are, of course, Advent/Christmas and Lent/Easter, and the LP brings together some traditional Moravian repertoire (e.g., both the Leinbach and Gregor Hosannas, and a few chorales) with several pieces written by Reynolds and other for the Downey group. In 1995, Crystal Records reissued both recordings together on a single CD, titled Music for All Seasons (Crystal Records, CD220). This reissue replicates all of the useful liner notes from the original LPs as well. You can purchase this disk directly from Crystal Records, and it is widely available through the usual online outlets.
---
My congregation wants to do a Moravian-style lovefeast. What instrumental music is appropriate?
The "lovefeast" is a uniquely Moravian tradition that has been adopted on an occasional basis by congregations in many other denominations. For more on the historical and spiritual background of the lovefeast, see the Moravian Music Foundation website. There is no real standard set of instrumental music for lovefeasts, and musical practice regarding lovefeasts varies widely from congregation to congregation. We have occasionally used an old spiritual, Let Us Break Bread Together (a manuscript arrangement, sorry) or Huss's Communion Hymn as a lead-in to the lovefeast, and we have often used the lovefeast itself as a time in which we can play something a bit more substantial than your usual two-minute Offertory piece. If you have access to the 1995 Moravian Book of Worship, there is a list of appropriate service hymns on p. 917--most of these can be arranged for instrumental accompaniment or can simply be used as instrumental prelude. The majority of these appear in the Green Book. Here are the hymns, as they appear in the MBW...
- 399 All Hail, Our Church's Elder Dear (tune: 159A Worship*)
- 517 Christ is Our Cornerstone (tune: 342D Darwall*)
- 564 God is Here (tune: Abbot's Leech)
- 398 God! When Human Bonds are Broken (tune: 16G Dresden [Laus Deo])
- 401 Heart with Loving Heart United (tune: 167A Cassel**)
- 397 In Essentials Let Us Be United (tune: 185A Covenant*)
- 400 Jesus, Great High Priest of Our Profession (tune: 185A Covenant*)
- 525 (or 126) Join We All With One Accord (tune: Gaudeamus Pariter*)
- 437 Lord Jesus, For Our Call of Grace (tune: 166A Pilgrimage*)
- 436 On This Our Day of Praise (tune: St. John)
- 204 Own Your Congregation (tune: 141A Berthelsdorf**)
- 396 They Walked With God (tune: 132D Speratus)
- 440 We Build with Mortar, Brick, and Wood (tune: Jordan)
- 433 We Come to You, Our Father (tune: 151L Aurelia*)
- 434 We Have Received Christ Jesus (tune: Westminster, Madison)
- 527 We in One Covenant Are Joined (tune: 159A Worship*)
- 395 When Christian Shared Agape Meals (tune: Lovefeast)
- 438 With Hearts in Tune, with One Accord (tune: 90A Eisenach*)
---
* in the Green Book
** in the Green Book, but in a different key than the MBW

There are probably as many recipes for lovefeast buns as there are Moravian congregations--easy to find these in a Google search.
---
How can I arrange hymns for my group?
Of course the easiest solution is to have players who can read directly from the hymnal! However, since most church groups include less experienced players, you will need to produce transposed parts for standard four-voice hymn settings. This is of course easily done if you're using Finale or some similar music processing program, but for those of you who are still using good old manuscript paper, I offer the following quick and easy guide to writing out parts for the most common brass instruments:
soprano trombone or trumpet: These instruments will work well on the soprano and alto parts of most Protestant hymns. Experienced trumpet players will be perfectly happy in C (concert key), reading directly from the hymnal or a part copied directly from the hymnal. However, the majority of players will probably need a B-flat part. To do this, you need to do two things: 1) Change the key signature on the transposed part: add two sharps or subtract two flats. So a hymn in the key of D Major (two sharps) will be presented in E Major (four sharps), B-flat Major (two flats) becomes C Major (no flats or sharps), etc. 2) Write the entire line a whole step higher. Be aware that accidentals may change. So, for example, an E-natural in the key of B-flat Major will become an F-sharp in the transposed part.

alto trombone or horn: These instruments are most appropriate for the alto part, but can also be substituted in on the tenor part as well. Experienced alto trombonists or hornists will probably be comfortable reading in C, and trombonists will usually be able to read a part written in alto clef, but it is much more common for players to read F parts. To do this, you need to do two things: 1) Change the key signature on the transposed part: add one sharp or subtract one flat. So a hymn in the key of F Major (one flat) will be presented in C Major (no flats or sharps), and a Hymn in C Major will be presented in G Major (one sharp), etc. 2) Write the entire line a perfect fifth higher.

E-flat parts: Not very common these days, but if you have older players, or someone with an alto horn, you may need to produce an E-flat part. To do this, you need to do two things: 1) Change the key signature on the transposed part: add three sharps or subtract three flats. So a hymn in the key of B-flat Major (two flats) will be presented in G Major (one sharp), and a Hymn in C Major (no flats or sharps) will be presented in A Major (three sharps), etc. 2) Write the entire line a major sixth higher.

tenor and bass trombone or baritone/euphonium: These instruments are most appropriate for the tenor and bass parts, and for the most part can read bass clef parts copied directly from the hymnal. If you are copying something from a choral score, the tenor part will usually be presented in treble clef, written an octave higher than the sounding pitch. Experienced players will be able to read this, but usually you'll need to copy such parts out in bass clef. It is common in trombone music to put higher parts in tenor clef, avoiding all those ledger lines, but this will be a problem for the majority of church band trombonists, so better stick with bass clef. You may occasionally have a baritone player who needs a B-flat part. In this case, transpose the part up an octave into treble clef, and follow the instructions given above for "soprano trombone or trumpet."

contrabass trombone or tuba: These instruments are appropriate for the bass line, and if you have someone else on the bass line, are most effective doubling the bass part an octave lower. You may need to write out thse 8ba parts for less experienced tuba players.
If you're interested in something more sophisticated than just writing out parts there are several books and online guides to arranging -- here's one of them.
---
FAQ page by Mike Allsen, May 2002