return to MSO history page
home
Please note that this chapter, now over 20 years old, will be superseded by a much more exhaustively researched book on the orchestra's history. I began work on this project after retiring in 2018, with an eye towards completion before the orchestra's 100th anniversary in 2026. I have left the following largely unedited from 2000. However, in October 2020, I did make a few small changes - correcting a few mistakes and clarifying a few things that have come to light since I wrote this two decades ago. - M.A. October 2020
75 Years of the Madison Symphony Orchestra
by Michael Allsen
Prelude
Madison Symphony Orchestra celebrates its 75th Anniversary this season with guest artists, galas, a newly commissioned work by John Stevens, and other special events. The orchestra's administration has invited me to write a history of the first 75 years, which I am delighted to do. A good historian needs to be aware of his or her own biases. In my case, I am first and foremost a member of the orchestra, and this history is primarily concerned with the orchestra and chorus as musical institutions. Like a good Classical symphony, this history will be laid out in four movements, presented in the four program booklets this season. The first section begins with the early years of the orchestra and chorus, and continues through the war years. The second covers the retirement of Dr. Prager, the tenure of Walter Heermann, and the arrival of Roland Johnson. The third movement is devoted entirely to the 33-year tenure of Roland Johnson, years in which the orchestra made the transition from a community group to a fully professional ensemble. The finale covers the retirement of Mr. Johnson, the search for a new conductor, and the remarkable growth of the orchestra under its fourth Music Director, John DeMain. This history is affectionately dedicated to my colleagues in the Madison Symphony Orchestra. - M.A. August, 2000

---
First Movement
"A Fine Democratic Effort"
Sigfrid Prager and the Beginnings of Civic Music in Madison, 1926-1947

The Madison Civic Music Association
Though the history of the Madison Civic Symphony, later the Madison Symphony Orchestra, officially begins in 1926, the roots of the organization extend a few years earlier In the spring of 1920, the University of Wisconsin Music School, the Madison Women's Club, and other groups were involved in the formation of the Madison Music Committee, a group that included some twenty members. Initially the Music Committee devoted itself to the annual Music Memory Contest, and also helped the Madison Public Library to expand its collection of scores and phonograph recordings. There was a great deal of interest in publicly-supported music in the community at this time, and the Music Committee was only one of several organizations working to promote concerts and public awareness of music, particularly art music. A parallel group, the Madison Orchestral Organization was active during the early 1920s, arranging concerts by visiting orchestras, notably the Cincinnati Symphony and Minneapolis Symphony. (This organization disbanded by the 1930s, as orchestral concerts by the Madison Civic Symphony became commonplace.)

In early 1925, the Music Committee sponsored a series of three free public concerts at the Capitol Rotunda, performances by various local instrumentalists, singers, and choirs. These concerts were enormously successful - attendance at the first concert, on March 8, was reported at 4,000! Buoyed by the success of these programs, the Music Committee incorporated as the Madison Civic Music Association in May of 1925, with its stated purpose "...to do educational work in the field of music, and to foster civic interest in music in and around the city of Madison." Though they continued to sponsor the popular Rotunda concerts during the 1925-26 season, the board minutes of this year show that the Association was most concerned with raising money with an eye towards a larger project: the creation of a orchestra. Prof. E. B. "Pop" Gordon from the University's Music Department was the Association's first president, though it is seems that the real force behind the early years of Civic Music was Susan Seastone, whom one board member referred to as the "energizing factor." It was Seastone who led MCMA's effort to establish an orchestra, and who initially recruited the orchestra's first conductor, Dr. Sigfrid Prager. Many years later, Prager paid tribute to her roles in organization, publicity, and even settling interpersonal disputes - he noted that, for some years, members of the board referred to the Madison Civic Symphony as "Susie's Band."

The Association's most pressing need was for a music director. By the summer of 1926 they had raised enough to be able to make a $1,000 salary available (with a "gentleman's agreement" that this would be raised if possible). On August 6, 1926, they officially named Dr. Sigfrid Prager as conductor of the Civic Orchestra. The orchestra's inaugural season, 1926-27 season was just as much of a success as the Rotunda concerts, and the MCMA expanded its activities in the next season to include a newly-created Madison Civic Chorus. In subsequent years, the Association also created a Civic Band and sponsored a series of chamber music concerts. (These lie outside of the domain of this history.) Despite widespread enthusiasm in the community for the new groups, the Association struggled to pay the bills, and found it particularly hard to raise enough money to allow Dr. Prager to work in Madison on a full-time basis.

By early 1928, the MCMA had reached a financial crisis. A savior came in the guise of Alexander Graham, the director of the City of Madison Vocational School (now Madison Area Technical College). With Graham's help, MCMA formed a relationship with the Vocational School. Over the vociferous objection of several aldermen, the city appropriated $5,000 from the Vocational School budget to be used as an annual salary for Dr. Prager. MCMA and the orchestra and chorus almost certainly would have faded away within the next few years without this relationship. Under the agreement, the Vocational School hired Dr. Prager as the chair of its Music Department, and would guarantee his salary. The school also provided office and storage space. There are dozens of notes in the MSO archives that attest to a close working relationship and warm friendship between Prager and Graham. For his part, Graham was an unstinting advocate of the ideal of civic music, and supported the activities of MCMA in countless ways. When Graham died in 1947, the orchestra paid tribute by playing Prager's arrangement of the Sinfonia to Bach's "actus tragicus," Cantata No.106: Gottes Zeit is die allerbeste Zeit. This important organizational relationship continues today - MATC continues to provide office, library, and rehearsal space for the Madison Symphony Orchestra and Chorus.

Prager, ca.1946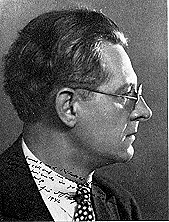 Dr. Sigfrid Prager
My picture of Dr. Prager comes from his writings, from hundreds of newspaper notices, and most importantly, from interviews with surviving members of his orchestra and chorus. He was quite obviously an enormously respected figure, both among his musicians and in the community at large. He seems to have been a very formal personality in the Old World mold. Though he wrote quite eloquently in English, he apparently never shed a rather heavy German accent. (Grace Schumpert, who sang in the chorus from 1929 through 1978 referred to him as "a typical German professor." ) His formality seems to have tempered by friendliness, boundless enthusiasm, and humor, though. Ted Iltis, who played under Prager in the 1940s, as a student at the University's Summer Music Clinic, recalled one rehearsal when he botched the big horn solo in Liszt's Les Preludes: "He stopped the orchestra, stared at me and said: 'Vot ist dis...Variations on a Theme by Iltis?'" It has been nearly fifty years since his last visit to Madison, but former musicians and audience members obviously retain a great deal of respect for him - my first clue of this came last year, when I was giving a Prelude lecture prior to one of our concerts, and made an offhand reference to "Mr. Pray-ger." An older couple present at the lecture politely but firmly corrected me: it was Dr. Prager (pronounced "Prah-ger"). Though he reportedly liked friends to call him "Sig," I have yet to find anyone among his former associates who refer to him with anything less than his full title.
Prager was born in Berlin on June 12, 1889, as Siegfried Wantzloeben. Just why he changed the spelling of his name and adopted the surname Prager remains a mystery, but he was known professionally as "Sigfrid Prager" after he left Germany permanently in 1919. He completed his dissertation, a musicological study of the monochord (a musical/scientific instrument of Classical Antiquity and the Middle Ages) at the University of Halle in 1911. studied composition with Max Bruch, piano with Feruccio Busoni, and conducting with Felix Weingartner. Between 1912 and 1917, Prager worked in several conducting posts in Germany and Italy: regular engagements at the Royal Opera House in Berlin and the Grand Opera of Hamburg, and conducting in Catania, Italy, (where his symphonic poem Sicania was premiered in 1912), as well as Lausanne, Turin, and at the Teatro Liceo in Barcelona. In the years after the first world war (1919-24), he was in Argentina, conducting at the Teatro Colón in Buenos Aires. It was here that Prager met his second wife, the soprano Frances Silva (born Franziska Reuttinger) whom he affectionately referred to as "Fanny." (The Pragers were married in New York in 1925, and would eventually retire to Argentina in the 1950s.) He arrived in New York on December 31, 1924, and was in Madison in the early summer of that year. Prager seems to have come to Madison at the invitation of Madisonian George Walker, an operatic bass whom he met in New York. Prager stayed in Madison all summer, accompanying Walker's recitals and giving public lectures. He returned to New York in the fall for conducting engagements, and eventually toured the west coast as the accompanist for the noted baritone Royal Dadmun. Prager came back to Madison again in the summer of 1926, and it was at this time that he was approached by the MCMA regarding the proposed Civic Symphony.
In 1940, Alexius Baas published a Capital Times article titled "A History of Civic Music in Madison." Baas was a bass singer and a teacher at the Madison School of Music who sang many times in Civic Music programs through the 1940s. He also had a weekly column in the Capital Times, dealing with cultural life in Madison, and wrote hundreds of music reviews. In an informative (if somewhat self-aggrandizing) account, Baas wrote:
"It was the early spring of 1925. My old friend and colleague George Walker, basso, was living in Madison at the time. He had met a musician in New York, he said, a Dr. Sigfrid Prager, formerly of Berlin and Buenos Aires, a man over whose musical knowledge and accomplishments he grew eloquent. I knew Walker to be conservative in his praise as a rule, so when he said that Dr. Prager was planning to spend a summer in Madison, I looked forward to meeting the stranger with great interest. My wife's mother had a spare room and it was arranged that Dr. Prager should stay at her place. One rainy, muggy night he arrived, and I shall never forget my first impression when we clasped hands. A giant of a man with crisp curling hair, fine features, looking like a human dynamo of energy and action. I instinctively felt that Walker's praise had been an understatement."
Baas, who was running a canoe rental operation in Vilas Park in that summer, goes on to describe their developing friendship and the beginnings of Civic Music:
"As soon as he was fairly settled in his new quarters, it was to my island that Dr. Prager found his way almost daily with his briefcase of books and papers, and it was here that there was founded an enduring musical and personal friendship. I soon discovered that my own musical knowledge (excepting perhaps the field of song) was a drop in the bucket compared to his. And it came to me with prophetic insight that this was the man Madison needed to unify and coordinate its musical activities...if such a thing were possible. His questions as to the local situation showed a keen understanding not only of a community's needs in musical fields, but also of human values and equations

"My replies, I confess, were none too encouraging. I had grown up in Madison, and I knew local conditions as well as anyone. I had attempted in my own day to interest certain influential men and women in the forming of something like a coherent musical association. I had failed. [...] The mistake had been made of attempting to combine university and city interests. Every church had a choir. There were half a dozen choral organizations in the city. Attempts had been made at times to organize an orchestra. These had failed. Everything, musically, was at a loose end.

"I pointed out these things to him, and emphasized the difficulties confronting any musician who would be rash enough to try to organize these divergent and sometimes conflicting elements into a purposeful and coherent unit. I offered what advice and help I was capable of giving, but told him that any such attempt would be a failure [...] He weighed all that I said and decided to begin the hopeless job. There followed many long talks on the island or floating in a canoe under the stars on the silent lagoon, and always I was more impressed with my companion's vast knowledge of music and his shrewd judgments of the men and women who might help or hinder his plans, and finally realized that, if any man could do this job, it was he. And so he began..."
Baas continues, describing some both the difficulties ("tedious details of organization," "indifference," and "petty bickering" among musicians) faced by Prager in the early years, and his own doubts about whether the enterprise would survive—reading between the lines in Baas's florid prose, it is possible to conclude that the Civic Symphony sounded pretty awful in the earliest years. He concluded on a high note, however:
"But he kept at it. What black hours he went through in those years of grinding effort, he alone knows, and a few of us can guess. The result we all know: a civic chorus and orchestra second to none in the United States, even in cities five times our size, and a growing interest in music that will make Madison one of the most music-minded communities in the world."
Prager was quite clearly the right conductor at the right time, and the Civic Symphony flourished in the late 1920s and 1930s under his leadership. He was also an enormously busy man, and constantly expanded outside conducting activities. In his earliest years in Madison, Prager also directed the Madison Männerchor, a venerable Madison ensemble that had existed since the 1850s. Prager was instructed by the Civic Music Board to resign this post in 1929, but the Männerchor, under Alexius Baas, still took part in dozens of Civic Music performances over the next 22 years.


In late 1930, Prager received an offer to conduct in Chicago, and for a time, his resignation was a real possibility, but the Civic Music Board was able to reach an agreement whereby he would be in Madison at least two days each week to direct orchestra and chorus rehearsals. Though he would settle increasingly back in Madison by the early 1940s, Prager maintained several conducting jobs in Chicago throughout the 1930s, particularly the Chicago Singverein and Chicago Bach Chorus.

An even more time-consuming opportunity came his way in the later 1930s. Prager was asked to conduct the Milwaukee-based Wisconsin Symphony Orchestra, which would eventually become the Milwaukee Symphony Orchestra. The "New Deal" Works Progress Administration was of course established by the Roosevelt administration to create jobs for millions of unemployed Americans during the Depression. We all know about the great public works projects created during this era, and the WPA's employment of visual artists is also well-known (think of the great muralists Diego Rivera and Aaron Douglas). That the WPA also created employment for musicians is perhaps less familiar. Swing bands flourished of course, but many orchestral musicians had trouble finding work. The Wisconsin Symphony Orchestra (or sometimes the Wisconsin Federal Symphony Orchestra) existed from the late 1930s until the war, and provided employment for a large body of musicians. Prager, who lead the orchestra from 1938 until 1941, seems to have been the most accomplished of the orchestra's conductors, and led dozens of concerts in Milwaukee and across the state. The orchestra played primarily free outdoor concerts and youth concerts in schools. The Wisconsin Symphony Orchestra played at least one concert in Madison under the sponsorship of Civic Music, on January 25, 1938.

Throughout his tenure, Prager taught occasionally - piano, composition, and conducting - at the Madison School of Music, the UW-Madison School of Music, and gave letcures through the UW Extension. He also conducted the orchestra at the University's Summer Music Clinic in the later 1940s, working with hundreds of young students who remember him with affection. (It was while working at the Music Clinic that Prager met the man who would be his chosen successor, Walter Heerman.) He was also a guest lecturer at Stanford University in the summer of 1935.

Prager was a fine pianist and composer. He appeared as a piano soloist with the orchestra five times and on many more occasions, he would accompany the art song performances that were part of Civic Music concerts. Most of his solo performances were relatively early in his tenure in Madison - he seems to have been too busy conducting in Madison and elsewhere by the middle 1930s to prepare concertos - but several musicians have remarked that he remained an amazingly accomplished pianist.

As a composer, Prager worked very much in the Romantic style: his former piano student Gerald Borsuk noted that "his interest seemed to go about as far as Debussy." One work premiered by the orchestra in the early years was his Symphonic Suite Op.17. Though this was clearly a "American" piece in inspiration - each of the four movements was based upon a black spiritual - it was a work very much in a European mold, as Prager says in his program note: "No attempt has been made by the composer to present these melodies in their original atmosphere, still less to 'jazz' them. He has rather taken them as Dvorák and other have done before, i.e., as beautiful, expressive tunes, suitable for symphonic elaboration and development. In view of his foreign birth and training, the composer makes raises no claim to have made in this suite a contribution to American music..."

The orchestra and chorus also premiered his cantata The Message of Song, written for the first Dane County Music Festival, and performed at the Stock Pavilion by a mass choir of 400 voices. Prager also orchestrated piano works by Debussy, Albinez, and Granados for the Civic Symphony. Hundreds of pages of his manuscript parts still exist in the MSO's music library: in many cases, he was adapting works to be played by the instrumentation available at the time (some symphonies, for example, include newly-written saxophone parts). To this day, when the orchestra performs Sousa's Stars and Stripes Forever, many players are still reading from Prager's manuscript arrangement!

Early orchestra and chorus concerts
Almost soon as MCMA announced that it had hired Dr. Prager, the call went out for musicians. Prager announced an open rehearsal on Sept. 24, 1926, inviting "all musicians in the city." Just a few years before his death, Prager wrote a wry account of this first rehearsal in a letter to a Madison friend:
"Some 60 young and middle aged people came with instruments to find out what it was all about. Now, an orchestra, as we proudly intended to call our enterprise, is a delicately balanced organization, clearly defined in its composition in order to secure a proper balance of dynamics and colours.
"As we said before: quantity there was, but what kind of quantity. There was a whole army of saxophones, little ones, medium sized ones, and big ones. But alas, as almost everyone knows, the saxophone is almost the only instrument on earth which is only very, very rarely employed by composers of symphonic music. So, with tears in my eyes, I had to send away this imposing array of ambitious, but undesirable symphonists...

"And there was another army, still more numerous, shinier and noisier: about 15 trumpets. Now the trumpet is a legitimate orchestral instrument, but only in small doses. Our classicists and even the romanticists were content with two of these glorious noisemakers. Titans of orchestration like Meyerbeer, Richard Strauss, Mahler, and Schoenberg have occasionally used four. But 15? Horrible thought! So again, with tears, we had to send away these proud artists. And trumpeters are a proud race. If we made enemies sending away some mild-mannered saxophones, we made mortal foes out of the arrogant but rejected trumpets.

"If there was a surplus of unusable material, there was a lamentable scarcity of other instrumentalists. In fact there were no oboes or bassoons at all. Kettle drums there were, but there was nobody to play these noble instruments. And a harp? Not a shadow of one. The most important section of any orchestra, the string section, also had its shortcomings. Violins there were quite a few, though of unknown individual capacity. Of violas there were two or three. Of violoncelli there were one and a half. I say one half because the person in question had apparently never learned to read music, because when the rehearsal began, he put the music on his desk upside down, which caused some misunderstandings as to exact text interpretation.

"And there was one stringbass player, the stationmaster of the South Madison railway depot. He looked quite impressive in his solitary glory, but I don't remember whether or nor he sounded equally impressive. As to the numerous violins: the majority of them crowded together on the second violin side. Quite at random we invited half the violins take seats on the first violin side; a silly shift, since we did not know the qualifications of any of them.

"At any rate, somehow the rehearsal started. We began with the relatively innocent second L'Arlesienne Suite by Bizet. The first ten minutes of it sounded as if Arnold Schoenberg had written the music when he was in a bad humor. We followed with the Meistersinger Prelude which sounded somewhat more human, because part of it is in C Major."
After "three months of strenuous rehearsing," the Madison Civic Symphony gave its first performance on December 14, 1926, at the Central High School auditorium. In addition to the orchestra's selections, Prager had engaged New York-based soprano Esther Dale to sing several art songs. The program for this inaugural concert was as follows:

Bizet, L'Arlesienne Suite No.2
Gounod, aria"Plus grand dans don obscurité," from The Queen of Sheba
Vuillermy, Jardin d'amour
- Esther Dale, soprano, and Dr. Prager, piano
Tchaikovsky, Serenade for Strings
Tchaikovsky, Pourquoi
- Esther Dale, soprano, and Dr. Prager, piano
Beethoven, Symphony No.2
Dobson, Yasmin
Robinson, Water Boy
Carpenter, Don't Care
Cadinar, Call Me No More
- Esther Dale, soprano, and Dr. Prager, piano
Grainger, Mock Morris
Berlioz, Hungarian March from "The Damnation of Faust"

Over a thousand people attended this performance, which was a rousing success. In fact, the local press seems to have forgiven a certain lack of musical quality, because the mere idea of a symphony orchestra in Madison was so exciting. The community enjoyed themselves, and the musicians enjoyed themselves even more, as reported the next day in the Capital Times:
"A thousand persons heard Madison's own first symphony concert last night at the Madison Central high school, and about fifty heard the informal jubilee of the Madison Civic Symphony orchestra about ten minutes after the close of one of the most successful premieres that any Madison organization has experienced. Men and women who, without compensation, have worked unceasingly for the past three and a half months in the ranks of the orchestra, lost the dignity with which they had played Bizet and Beethoven, and the 'S-s-s! B-o-o-m! A-a-a-h!' for their director, Dr. Sigfrid Prager their soloist, Miss Esther Dale; for Gilbert Ross, their concert master; and for Mrs. C. V. Seastone and Prof. E. B. Gordon rang out with all the enthusiasm of a group of rooters at a Wisconsin football game."

Group photo from one of the early Civic Music choral/orchestral concerts held in the Stock Pavilion (possibly February 23, 1928?).
Prager is standing at the center in back.


The inaugural concert was an amalgam of art songs and orchestral pieces, setting a pattern that would be used many times through the 1930s. In part, this was a purely practical move: this all-volunteer orchestra was simply not able to put together enough music for a full program, and art songs or chamber pieces could flesh out a concert. However, this was also a very different time in American musical life. Today we are bombarded by music - we can listen to any sort we choose for 24 hours a day - and we seem to have little patience with long programs of live music. (An average MSO concert these days might contain 70-80 minutes of music: enough time for an overture and a concerto before intermission and a symphony afterwards.) 1926 was, literally, a quieter time: audiences expected variety, and were hungry for live music. Programs that would seem excessive by today's standards were commonplace: Many of the concerts put on by Civic Music in the 1920s and 1930s contained nearly two hours of music (not counting intermission and setup changes) At least once or twice a season, Prager would assemble a true extravaganza. One such concert, the Madison Civic Music Festival held at the University Stock Pavilion on April 14, 1931, featured the Civic Symphony and Chorus, four other local choruses, four vocal soloists, and the Madison Civic Band. This program included fifteen works, and must have lasted nearly three hours.

Following the orchestra's encouraging inaugural season (three well-attended concerts and an appearance at a concert by the Madison Männerchor), the MCMA created the Madison Civic Chorus in the 1927-28 season, and this group of 180 singers had its first performance on February 23, 1928: a program that included The Wreck of the Hesperus by Prof. Charles H. Mills of the University's School of Music, and Mendelssohn's First Walpurgis Night. The chorus was quickly recognized as a the best vocal group in town, its musical product was probably better than that of the orchestra for several years.

Concerts of the 1930s
By the 1930-31 season, Civic Music had a firm foundation. Its three groups, the Civic Symphony and Civic Chorus, under Dr. Prager, and the Civic Band under John Bach were increasing in numbers and quality. Concerts were very well-attended, and local sponsorship allowed MCMA to reduce ticket prices several times. (By 1940, all Civic Music concerts were free, and remained free to the public until the middle 1960s.) Though these were the Depression years, the Vocational School's invaluable support created a financial safety net.

Prager continued to expand the number of orchestra and chorus concerts. The Civic Symphony had performed three concerts in each of its first two seasons, and the chorus performed twice in the second season. In 1930-31, the orchestra performed on four occasions, twice in combination with the chorus, and the chorus sang an additional concert of its own. By the end of the decade, the Civic Symphony and/or Chorus regularly performed six or seven times a season. Popular programs, particularly operas, were often repeated to allow for larger audiences. (MCMA had briefly experimented with routinely repeating all of its programs in 1929-30, but was not able to sustain this.)

We really can't talk about a "typical" Civic Symphony concert of the 1930s, since Prager seems to have aimed for variety. Relatively few of the orchestra's concerts resembled a symphony concert of today. On February 13, 1934, for example, the orchestra performed the following program:

Mozart, Overture to "The Marriage of Figaro"
Bach, Concerto for Two Violins and Orchestra
- Marie Endres and George Szpinalski, violins
Beethoven, Symphony No.3, "Eroica"
Ferroni, Spanish Rhapsody
Borodin, On the Steppes of Central Asia
Wagner, Prelude to "Die Meistersinger"

The first three works would probably satisfy today's audiences. (In fact, the first three works would be a program remarkably like most concerts played by the orchestra today: an overture, concerto and a symphony.) In promoting the concert, local press made much of the fact that three of the works - by Bach, Beethoven, and Ferroni - had never been performed in Madison.

In the early 1930s, the orchestra's repertoire relied heavily on tried and true orchestral warhorses. Works like On the Steppes of Central Asia would often appear twice a season, or several times in subsequent seasons. Throughout the decade, however, Prager gradually began to add more ambitious and challenging literature: Ravel's Bolero and Tchaikovsky's Symphony No.5 in 1935, Brahms's Variations on a Theme by Haydn in 1936, Rimsky-Korsakov's Scheherezade in 1937, Strauss's Death and Transfiguration and Debussy's Prelude to "The Afternoon of a Faun" in 1939.

The quality of the chorus continued to grow under Prager's leadership, and over the next several years performed many major works: Bach cantatas, Haydn's The Creation, Bach's Christmas Oratorio, and dozens of smaller pieces. There was clearly an element of working through important repertoire, even if the chorus couldn't always take it all in one bite. Between December 1929 and May 1930, for example, the chorus performed the three sections of Handel's Judas Maccabeus on three separate programs. The true signature piece of the Civic Chorus was the best-known of Handel's oratorios, Messiah. The first Messiah was presented in February of 1933, and yearly December Messiah performances, which Prager referred to as his "annual Christmas gift to Madison," were a beloved local tradition which lasted until the 1950s. Prager's Messiah concerts were very much in the Romantic style - large choruses and full 19th-century orchestration - and were presented with several cuts. (The Civic Chorus did not sing its first uncut Messiah until 1957.) Though the annual tradition ended in the late 1950s, Messiah has continued to find its way its way into the chorus's repertoire once every three or four seasons. One of the rare recordings of the Civic Symphony under Prager that survives today is of Alexius Baas singing the aria "Why Do the Nations So Furiously Rage Together" in the 1941 performance of Messiah.

December 1932 production of Faust (Parkway Theatre)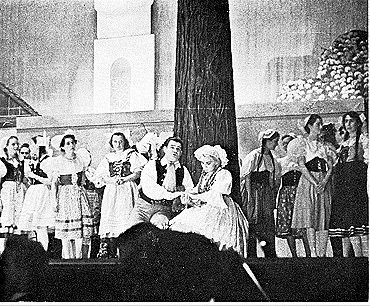 Prager came to Madison from the world of opera, and it is not surprising that he arranged opera productions as soon as the MCMA could manage to support them. Among the most ambitious performances sponsored by Civic music in these years were the fully staged productions of eight operas mounted during the 1930s: Faust (1932), Carmen (1933), Il Trovatore (1934), Samson and Delilah (1935 - three different productions), Madame Butterfly (1937), and The Bartered Bride (1938). The casts were usually a mixture of local soloists (Civic Chorus stalwarts like Alexius Baas, Frances Silva, Karl Fischer-Niemann, Grace Schumpert, and others) and singers from out of town - primarily Chicago-based singers.
Civic Music and the Local Press
Local newspapers provided priceless support during the early years. The Capital Times and Wisconsin State Journal both championed the cause of civic music on their editorial pages, and provided free publicity for concerts. Prager clearly had a good relationship with long time reviewers William Doudna of the State Journal, and Sterling Sorenson of the Capital Times. Both would occasionally criticize works and individual soloists, but in general reviews were quite enthusiastic.
The press also devoted a great deal of space to concerts before they happened. A fairly typical example of local news coverage is what appeared in the Wisconsin State Journal for a May 1, 1934 concert. This was a typical Civic Music extravaganza of the period: the concert (at least a three-hour affair) featured a series of three orchestral works, and two extended multi-movement ballets performed by the Leonore Johnson Ballet. The orchestral pieces included Smetana's Bartered Bride Overture, the world premiere of Sybil Hanks's Meditation, and Brahms's Violin Concerto, with Arthur Kreutz as soloist. The ballets included Sleeping Beauty Retold, a 22-scene version of the familiar fairy tale for Johnson's younger dancers, and Divertissement, which featured the adult dancers of the company dancing to music by Bizet. The Journal began its coverage on Sunday, April 15, some two and a half weeks before the concert, with a two-column piece titled "Concert-Ballet Program to Write New Page in Civic Music History" that briefly described the orchestral pieces and the ballets. A week later, a second article provided a detailed description of the scenario for Sleeping Beauty Retold, and listed all 75 (!) dancers involved. On Sunday, April 29, the Journal's coverage focused on the orchestral pieces, but also included a large photo of the principal child dancers. Monday, April 30 saw another small notice in the Journal, and on the day of the concert, page 1 of the paper featured the banner headline "Ballet, Symphony in West High Auditorium form at 8:15 Tonight" above the paper's masthead. Tuesday's paper also included three more photos (Prager, Hanks, and another one of the lead dancers), and a brief description of the concert, with special attention to the Hanks premiere. Finally, Katharine Hartman Axley published a detailed and glowing review the next day.
The relationship between Civic Music and the local press was a vital one that went well beyond mere promotion. Concert repertoire would change constantly: the orchestra would program pieces as they were ready, and it was not at all unusual through the early 1940s for programs to change drastically from what had been announced earlier in the season. Articles in the State Journal and Capital Times would keep Madisonians abreast of these changes, and would even comment on the orchestra's current rehearsals. The Sunday arts pages in the papers also helped promote a more general interest in music, and published essays of general interest. If some of these seem a bit mawkish or even unfortunate by today's standards (On August 1, 1926, the State Journal published an essay titled "Negro Chants, Spirituals, Melodies show Tragedy, Whimsicality of a Race."), there was a generally high tone to most of the music journalism of the day. Prager himself contributed often to the local papers, writing on the value of civic music and music education in the schools, providing extensive program notes for upcoming concerts, providing more general descriptions of composers and works, and even discussing Jazz.

Madison Civic Chorus at Christ Presbyterian Church on March 18, 1930.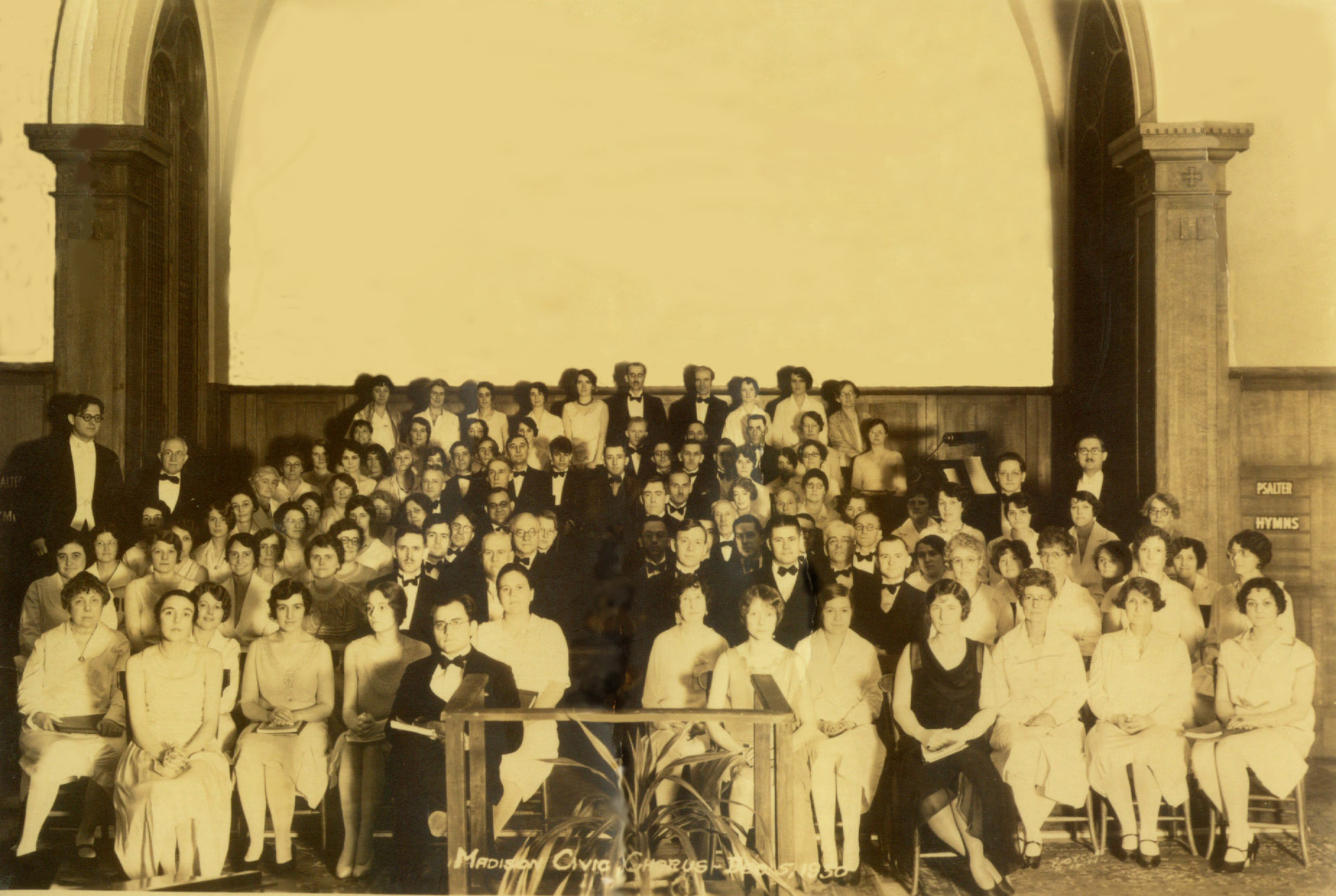 Civic Music's musicians
Both orchestra and chorus were run democratically, with elected officers, and the presidents of the two groups sat in as ex officio members of the board from the 1930s onwards. Prager was clearly in charge, though, and ran very tight rehearsals. Rather notorious as a perfectionist, Prager expected high standards, and though the Civic Symphony was an volunteer group, he did not tolerate lax musicianship. In the early 1970s, Marie Endres recalled an incident where Prager butted heads with principal flutist Florence Bennett: "You could wait months for Florence to make one mistake...which she never did... One night, the rehearsal hall was cold, and the light was bad. We were doing the Bach Suite in B minor for Flute and Strings. Something happened and he stopped and bawled her out. She was the soloist, of course. She walked off the stage. Wham! She would have none of that. He had a student, Doug Seaman take her place. But he made his peace with Florence and she played the concert."
Some of Prager's musicians were professionals. Marie Endres, for example, was the dominant force in the orchestra's string section throughout the early decades. Endres, whom many musicians remembered with great fondness, was concertmaster for some 35 seasons (1926-1960) and was featured soloist nearly a dozen times in those years. Endres conducted countless string rehearsals throughout the 1930s, 40s, and 50s, and the orchestra's string sections were always heavily populated by her students (who addressed her as "Teach"). Endres and other principal string players were paid a modest fee by the Vocational School: for most of this period they were the only paid members of the orchestra.
In the early years, Prager was reinforce the chorus with several locally-active professional singers like Baas, tenor Karl Fischer-Nieman, and his wife Frances Silva, but these roles were quickly filled by local amateurs. Ray Daniels, a plumber, was lead tenor in the chorus for many years, and Joseph Straus, a printer, lead the basses. Alto Grace Schumpert, who sang in the chorus for nearly 50 years, remembers how she was put in a leadership role: "At a rehearsal [in 1929]—I think that it was a Mozart —I noticed that the woman next to me was singing from a different edition, and trying to sing in a different key. I was sitting back in the fourth row, and I raised my hand and asked whether we should be singing an E or an F-sharp. Dr. Prager said: 'Who's that back there with perfect pitch?' And then he walked right back, took me by the arm, and sat me in the first row. That's where I remained!"
Orchestra concerts featured primarily soloists from Madison, both regular members of the orchestra (Marie Endres, Florence Bennett, clarinetists Harry Vogts and Robert Woolen, harpist Margaret Rupp [later Rupp Cooper], and others), and other prominent local musicians (most notably pianist Emma Endres - Marie's sister - and violinist George Szpinalski). In later years, Prager was also able to draw soloists from the University faculty, including internationally-renowned pianist Gunnar Johansen. Prager drew his vocal soloists from among the chorus, but also engaged many singers from Chicago. "Big Name" artists were a relative rarity until the 1940s when Civic Music was able to bring in a few internationally-known soloists, such as pianist/composer Percy Grainger in 1941 and 1942 and soprano Marjorie Lawrence in 1946. (For most of Prager's tenure, the maximum honorarium paid to soloists seems to have been $40 or $50, which certainly ruled out most name soloists. In many cases, it it likely that Prager's network of personal and professional ties in Chicago and New York were just as important as money in bringing in guest artists.) This was long before the establishment of anything like youth competitions (like today's Youth Soloist, Steenbock, and Bolz awards), but prodigies were always an audience favorite as well: local pianists Storm Bull and Gerald Borsuk - the latter a student of Prager - and violinists Jane Dudley and Monty Applebaum were four of the finer young soloists.
Any all-volunteer organization seems to come with its share of politics, jealousies, and interpersonal conflicts. Though most Civic Symphony activities seem to have gone smoothly, Prager occasionally had to deal with personal issues. In the fall of 1937, for example, there was a nasty conflict in the cello section. Within a week, Prager received formal letters of resignation from two players who had been offended by a third—in one case, this was a local doctor who reported that the man had "become abusive, and called me a 'dirty loud-mouthed Jew'." There is no record of Prager's response, but by the next concert, the abusive cellist was not listed in the orchestra, and the two resignees were.
An even more public squabble occurred in the spring of 1946 over control of the Civic Chorus. In the previous fall, the always over-committed Prager had hired Kunrad (Arnold) Kvam to conduct chorus rehearsals, but there was apparently a dispute connected to the annual Messiah performance - the specific details are hazy, but Kvam had apparently deviated from time-honored cuts, bowings, and tempos, and had hired soloists without consulting Prager. Matters came to a head over the spring performance of The Creation, when Kvam and Prager again argued over soloists. Kvam proffered an angry letter of resignation, and Prager conducted the concert. Later that spring, ten members of the chorus signed an open letter protesting Prager's actions, which was printed in the local papers. Debate was heated and public. Finally, on May 24, the editors of the State Journal published a "public postcard" asking for peace: "Ladies and gentlemen: For the love of sweet something, with all the scrapping and roaring going on every place else, won't you please do your best to keep the blue notes out of our last refuge, music?" The end result of the affair seems to have been a schism in the chorus, and the formation of a separate group, the Philharmonic Chorus, which is still active today.
The war years
The 1940s were hard times for the chorus and orchestra. Prager reported several times to the Board that the draft was causing a severe impact. In the case of the orchestra, at least some of the empty chairs were filled by soldiers stationed at Truax Field, many of whom had been professional musicians before the war. One such case was Ashley Miller, a composer who directed the 16th Army Band at Truax and played in the Civic Symphony, until he was called to service at the front as an Army pilot. (Prager programmed Miller's Rhapsody for String Orchestra on a "Music of the Allied Nations" program in February 1944.) Army musicians were welcomed into the orchestra, though Prager apparently had to be quite strict about discipline, particularly given the fact that so many of the community members of the orchestra were teenagers and women. At one board meeting, one of the board members was commended for providing funds for "after-rehearsal entertainment" (presumably beer) for the soldiers. The chorus did not fare so well, and Prager needed to draw men from other area choirs - the Madison Männerchor, the Mozart Club, and the Milton College Glee Club - to supplement the Civic Chorus in its performances.
The biggest events of these years were two visits by composer and pianist Percy Grainger, in November 1941, and again in November 1942. The Australian-born Grainger was a Classical superstar in this period, but was apparently drawn to Madison through a personal connection with Prager. At each visit, the Civic Symphony and Chorus performed a large concert in the Stock Pavilion devoted to his works. The November 29, 1942 program even included the premiere of a new version of Grainger's The Lads of Wamphray.

Civic Music after the War
Correspondence in the fall of 1945 between Alexander Graham and Carl Bertram, director of the Appleton Vocational School, provides a good idea of the state of Civic Music in this period. Bertram, who wanted to foster an orchestra in his town, was looking for information on Madison's orchestra. Graham's lengthy responses begin by expressing great pride in the Civic Music Association's accomplishments, with special attention to the guest artists (soprano Marjorie Lawrence and violinist Branislaw Huberman) coming in during the next season. The MCMA's primary expense was Dr. Prager's salary: he was paid $4200.00 annually, which included direction of the orchestra and extensive duties at the Vocational School. Recently, MCMA had begun to employ a second conductor, at $8.00 per service, to direct chorus rehearsals. The only orchestral musicians paid by Civic Music (by way of the Vocational School) were the concertmaster and principal cellist, who were paid $5.00 per service, and the librarian, paid $2.50 per service. Graham's letters conclude with an offer of Prager's services: "I have talked with Dr. Prager and he will be very happy to go up there and do a good job of selling the idea of civic music to your board."
Prager announced his retirement at the beginning of the 1947-48 season. The organization he had built over 22 years in Madison was a thriving one, based on ideas of civic service and outreach: Prager later referred to it as "a fine democratic effort." It is clear that Prager, Graham, and the leaders of the Board believed that they were doing something very special, and it is equally clear that Civic Music was a source of great community pride. Concerts were always been well-attended, and by the time of Prager''s retirement the musical quality of the orchestra was very high.
---
©2000 by J. Michael Allsen - revised 2015 and 2020
last update: 10/16/2020